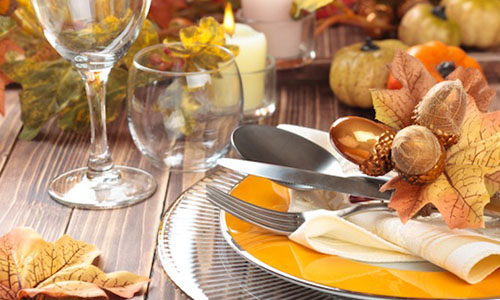 Spending your Thanksgiving holiday on the Grand Strand amid the luxurious comfort of North Beach Plantation is an opportunity for which you can be truly thankful. At the same time, however, you can't forget about the holiday dinner. What would Thanksgiving Day be without the traditional turkey, dressing and delicious side dishes? Giving thanks over a spread of fantastic food is just how the day is celebrated!
The thought of putting together a holiday dinner while away from home can feel a little daunting, but you have nothing to worry about! Between the first-class accommodations at North Beach Plantation and the resources of Myrtle Beach, you can plan and prepare your holiday dinner as easily as if you were in your own kitchen.
All of the accommodations at North Beach Plantation, from the one-bedroom condos to the six-bedroom cottages, boast fully equipped kitchens for your use during your stay. Whether you want to make the entire Thanksgiving meal from scratch or just want to create that one special dish without which your holiday would not be complete, you will have the space and equipment you need to make your own holiday magic!
The meal is important, but having fun with family and friends is really what makes the holidays special. If you'd rather be watching football and enjoying your company instead of tending to a turkey, you can still serve a great meal in the comfort of your own North Beach Plantation accommodations! Have the best of both worlds by having some or all of your holiday meal catered by one of the many local Myrtle Beach-area restaurants. You will need to place your order well in advance, since Thanksgiving is a busy day for the local restaurant scene, but a little planning ahead will get you a delicious, fully prepared meal that you can enjoy around the family dinner table – and all you have to do is stop by and pick it up!
You can also have the decadent pleasure of letting someone else do all the work for the holiday meal. Make reservations at 21 Main, North Beach Plantation's own elegant, world-class restaurant, or at any of the many restaurants in Myrtle Beach that are serving dinner on Thanksgiving Day, and you can relax over a mouthwatering meal without having to wash a single dish when you're done!
However you want to plan and prepare your Thanksgiving meal, you can create the perfect holiday dinner at North Beach Plantation – your home away from home in North Myrtle Beach.