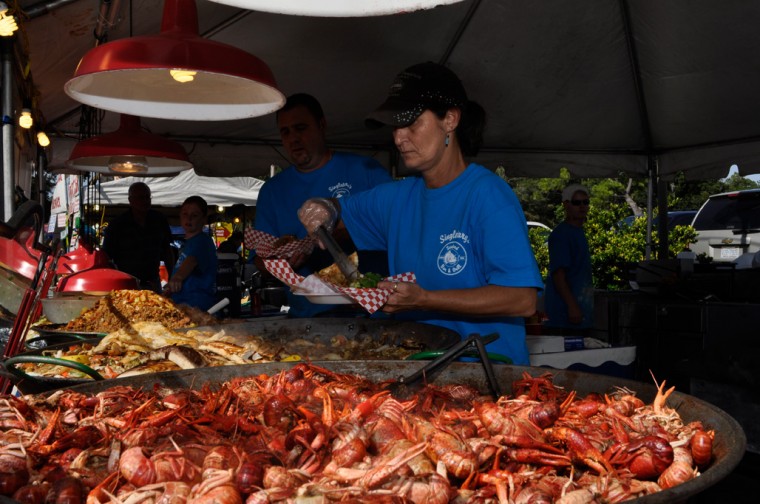 The kids are back in school, you are back at work, and summer vacation is fading into a distant memory. Before you settle back into the daily grind, take some time to unwind at Paradise Resort this fall and soak up the fun of the Myrtle Beach's fall festival season.
A long weekend trip to Myrtle Beach is just what the doctor ordered, and staying at Paradise is the ideal location for a relaxing retreat and visiting all the fun events. In fact, Paradise is midway between Market Common and the Myrtle Beach Boardwalk, two of the most popular places for festivals this fall. Food, music and fun are only blocks away.
If not for the cool ocean breeze, guests at paradise could probably follow their noses to the big Labor Day weekend event – the 10th Annual Beach Boogie & BBQ Festival at Market Common. Cooking teams gather to compete for the top prize in the Official South Carolina BBQ Championship, but the real winners are the attendees, who get to taste the pulled pork, chicken wings and other goodies from the grills. A beer and wine garden, car show, live music, children's activities and more are included in the festival lineup.
Market Common takes on a more international flavor later in the fall. The 12th Annual Irish Italian Festival comes to Valor Park on Sept. 26-27, celebrating the heritage of both nationalities in one fun event. Two weeks later, the Seventh Annual Oktoberfest honors German culture and some of its chief exports – beer, bratwurst and music.
Here's a list of other fall festivals scheduled for September, October, and November on the Strand:
9/4-5, 10th Annual Beach, Boogie and BBQ Festival, Horry Georgetown Technical College's Market Common Campus
9/4-6, Fifth Annual Coastal Uncorked Food, Wine and Spirits Festival, Broadway at the Beach, Celebrity Square
9/18-27, SOS Fall Migration, North Myrtle Beach, Avista Resort
9/24-27, 24th Annual St. Johns Greek Festival, St. John's Greek Orthodox Church
9/25-27, 40th Annual Atalaya Arts and Crafts Festival, Murrells Inlet, Huntington Beach State Park
9/25-10/17, 25th Annual Pawleys Island Festival of Music, Pawleys Island
9/26, 12th Annual Irish Italian International Festival, North Myrtle Beach, Horseshoe
9/26-27, Seacoast Artists Guild Arts and Crafts Festival, Market Common, Valor Park
10/1, 16th Annual Pawleys Island Wine & Food Gala, Pawleys Island
10/2-3, Seventh Annual Oktoberfest, Market Common, Valor Park
10/3, Fifth Annual Grand Strand Mustang Stampede & Ford Car Show, Broadway at the Beach
10/9-10, Gaither Fest, Myrtle Beach Convention Center
10/10-11, 11th Annual Little River Shrimp & Jazz Festival, Little River Waterfront
10/10-11, Downtown Oktoberfest, Myrtle Beach Boardwalk, Plyler Park
10/15, Cruisin' the Beach, Broadway at the Beach, Celebrity Square
10/17-18, Myrtle Beach Mini-Marathon, Coastal Grand Mall
10/17, Sixth Annual Myrtle Beach Wine Fest and Taste of Market Common, Valor Park
10/23, 27th Annual Arts and Crafts Festival, Pawleys Island
10/24, 12th Annual Murrells Inlet 2020 Oyster Roast, Murrells Inlet Marshwalk
10/31, Endless Summer Festival, North Myrtle Beach, Horseshoe
11/4-11/25, Park Jeopardy, Myrtle Beach State Park
11/5, 32nd Annual Taste of the Town, MB Convention Center
11/5, Taste of the Boardwalk & The Boardwalk Crawl, MB Boardwalk
11/6-12/31, Festival of Trees, Ripley's Aquarium
11/7, Free Family Day, Franklin B Burroughs – Simeon B Chapin Art Museum
11/7-11/8, Mythical & Medieval Festival, 3809 Socastee Blvd Myrtle Beach
11/7-11/21 (Saturdays Only), Market Common Music in the Streets, Market Common
11/8, Pumpkin Smash Day, Thompson Farm
11/11, Myrtle Beach Veterans Day Service, Convention Center
11/12-11/15, 34th Annual Dickens Christmas Show and Festival, Convention Center
11/14, Fireworks, Broadway at the Beach
11/22, Thanks-for-Giving, Children's Museum of South Carolina
11/24, 8th Annual Tree Lighting Ceremony at The Market Common, Market Common
11/26-12/31, Christmas Wonderland, North Myrtle Beach Sports Complex
11/27-11/29, 46th Annual SC State Bluegrass Festival, Convention Center
There's a small slice of paradise for everyone in Myrtle Beach this fall, and Paradise Resort is your vacation home away from home. Make your plans to see and do your favorite events, and spend a relaxing weekend with us at Paradise.
(Posted: 8/21/15)