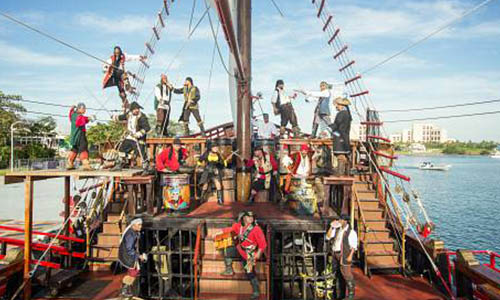 When staying at the Cottages at North Beach Plantation, and you are looking for a new adventure for you and the kids to enjoy, why not become a pirate for the day. Just a quick drive over to Barefoot Landing is where you will be greeted by your new crew. Climb aboard and transform into a pirate with the adventure along the high seas of the Intracoatal waterway.
Blackbeard's Pirate Cruise is a fun and interactive experience aboard the Renegade, the largest pirate-themed ship currently running on the Carolina coast. When they arrive, your kids will transform into pirates before boarding the ship. A pirate hat, face painting and a pirate tattoo are all included in the price of the cruise. They also get to choose a cool new pirate name for the day!
Then it's up the gangplank and off to sea on the hunt for pirate treasure. The kids are given treasure maps, and part of the fun of the cruise involves solving puzzles to find Blackbeard's storied pirate treasure. Any treasure the participating kids find, they are allowed to keep and take home with them!
But laying claim to the treasure won't be so easy. Bad Billy Bones is also on the hunt for the treasure. The crew of the Renegade will have to ward off his band of scoundrels in an epic water-cannon battle and retrieve Bad Billy's key before they can raise the Jolly Roger and claim the treasure as their own. And that's just the first part of the journey!
Blackbeard's Pirate Cruise is 60-90 minutes of nonstop entertainment for your kids. The staff will keep them occupied not just with the treasure hunt and water-cannon battle, but also with sea chanteys, pirate dances and pirate-themed games.
The cruise is appropriate for all ages, but will probably be most appreciated by kids 10 and under. The crew of the ship is knowledgeable and experienced at keeping your little ones safe at sea while still giving them the time of their lives being pirates for the day. The Renegade is fully equipped with safety equipment, and the "sea voyage" will stay in the calm waters of the Intracoastal Waterway.
The cruise sails rain or shine out of the dock at Barefoot Landing. Dress comfortably, and be prepared to show up at least half an hour early so your kids have time for their pirate transformation before the cruise departs. And don't forget your camera — you'll want to record the swashbuckling memories of this wonderful day aboard the Renegade.
Blackbeard's Pirate Cruise is a fantastic way to break up the beach and pool routine. Book this amazing adventure for your kids during your next getaway to Cottages at North Beach Plantation.