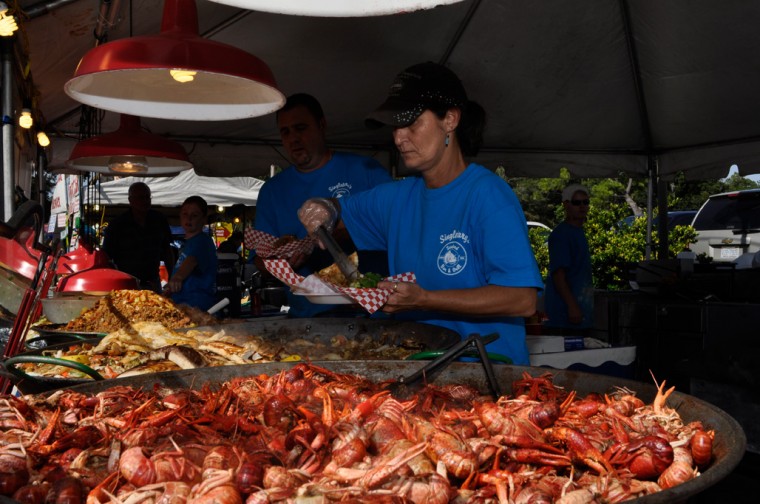 The Little River Shrimp & Jazz Festival celebrates its 10th anniversary in October, and the two-day party filled with live concerts and fresh seafood has already become a popular tradition on the Grand Strand. Thousands pack the downtown streets and fishing docks of the historic Little River Waterfront to celebrate two of the town's biggest treasures – seafood and music.
The first part of the "Shrimp & Jazz" honorees is obvious. The peak of the fall shrimp season brings boatloads of shrimp to the docks and dining rooms of Little River's many seafood restaurants. Also known for producing large quantities of fresh catch of the day fish and blue crabs by the bushels, Little River features all kinds of seafood at this festival.
But shrimp is the guest of honor, and there is plenty of it to be found throughout the festival grounds along Mineola Avenue. Sample shrimp cocktail, Calabash-fried shrimp, New Orleans-style barbecue shrimp (am I starting to sound like Bubba from "Forrest Gump" yet?) at the many waterfront restaurants, as well as some of the food vendors that serve delicious local seafood.
And don't forget the signature dish of the South Carolina Lowcountry – Shrimp & Grits. Contestants will vie for the coveted title of "Best Shrimp & Grits, and the competition is heated. Chefs use creative variations of the basic ingredients – stone-ground grits, sautéed shrimp and usually topped with a tasty Tasso gravy – to sway the panel of judges, and the general public can purchase tickets to sample the entries.
The latter part of the "Shrimp & Jazz" Festival is bit more of a reach since jazz isn't exactly Little River's forte. But music certainly is, and the lineup features a wide range of genres, from Alternative to Zydeco. Hear local and regional bands play country, rock, pop and more on two stages. This year's acts include Nathan & the Zydeco Cha Cha's, Austin Mowery Band, Paul Grimshaw Band, Jebb Mac Band, Bullfrog, Brian Ernst, Super Reggae Man, Dino's School of Rock, and Maddie Hunt.
And there's a lot more to the Shrimp & Jazz Festival than just seafood and music. Arts and crafts vendors shop their wares, carnival acts like stilt-walkers, balloon artists and mimes roam the festival grounds, and a large Kids Zone play area gives the little ones lots of options for burning off some energy. Carnival rides, a rock-climbing wall, pony rides and more are among the many activities designed for children.
Guests are encouraged to bring lawn chairs, find a comfortable spot under the live oaks and enjoy some cool tunes and hot shrimp along the banks of the Intracoastal Waterway. The party starts Saturday, Oct. 11, from 9 a.m. to 6 p.m., and wraps up Sunday, Oct. 12, between 9 a.m. and 5 p.m. Admission is $5 for adults and children ages 12 and under are admitted free. For more information, visit www.littleriverchamber.org.
(posted 9/12/14)
(photo courtesy: LittleRiverChamber.org)