Travel will look a bit different in 2021.
Bring it on, we say. We can't wait until we can make plans to get out and about again. Especially to spots such as Myrtle Beach, destinations that bring us joy but that we might not have been able to get to as much – or at all – in 2020.
Some things, though, will remain the same.
Early planning is a must. You'll want to figure out where you'll stay, what you'll do, and maybe even leave some things up to chance. Outdoors activities will become paramount. Luckily, Myrtle Beach has plenty of options for doing things outdoors.
With international travel on the decline and domestic travel gaining ground, you'll have more competition for hotel rooms, golf outings, and tables in restaurants. Good thing we have year-round specials with affordable rates, which leaves more time to focus on family fun! For the best deals and to give yourself plenty of time to plan, we suggest booking your trip around four months prior to arrival.
Booking early also means you'll have time to save up funds. With more funds, you could upgrade your trip to Myrtle Beach with nicer accommodations or even splurge on an extra-special meal at 21 Main Steakhouse! 
2. Consider Outdoor Activities
It's safe, it's fun, and it's healthy to get some fresh air! Try these activities.
LEARN TO SURF AT JACK'S SURF LESSONS AND BOARD RENTALS. Stop admiring surfers. Become one instead! Jack's instructors are among the best on the Grand Strand.
TAKE A BLACK RIVER OUTDOORS TOUR: Go on a two-hour saltmarsh tour with a professional guide. You'll get a glimpse of native wildlife, and maybe see a gator or two.
GO ON A MYRTLE BEACH SAFARI: This experience will leave an imprint on you. Doc and his safari family have a love for their animals, and it shows. A wonderful time for the family.
3. Plan on Outdoor Dining
Sure, it's great for social distancing, but folks in Myrtle Beach have done it for years. Try these:
GET THE BUFFALO WINGS AT HAMBURGER JOE'S: They're made with Joe's secret recipe. Gold wings are sweet and hot—and the hot wings are HOT hot.
ENJOY OYSTERS AT HOOK & BARREL: The house chowder is also a crowd-pleaser. Start off with a pimento cheese spread and homemade crackers. Drop by for a happy hour.
TRY THE LOBSTER RAVIOLI AT UMBERTO'S: Ever had Pittsburgh Italian? It's phenomenal. This dish comes in spicy vodka sauce.
4. Take These Tips For Flying
1. Airports and airlines promise to sanitize constantly. Bring your own alcohol wipes and sanitize any surfaces you'll touch.
2. Book domestic flights on Sundays, not Mondays, to save around 15% on airfare.
3. Check requirements in Myrtle Beach before you travel. Domestic travel is open, but things can change. Consult the Myrtle Beach coronavirus page for updates.
4. Pack healthy snacks, such as almonds, apple slices, carrot sticks, dried fruit, and protein bars. They'll keep you from the overpriced, unhealthy bits you can get in the airport.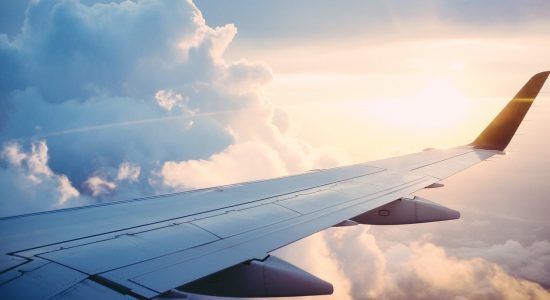 5. Observe These Tips For Driving
1. Get the most out of Google Maps. On the mobile app, enter your resort address as your final destination. You can add stops on your way (Rest Stops, Gas Stations, and Drive-Thrus) and keep your ultimate destination set.
2. Build in flexibility. In addition to those quick stops mentioned above, check out destinations to add between home and here, in towns along the way. Plan your stops accordingly for safe travels!
3. Get lots of sleep before you drive. At least seven hours for at least two consecutive nights will give you lots of energy for the journey. Start in the morning if you can, first thing, rather than after a day of work.
4. Stop every two hours or 100 miles to at least stretch your legs.
Make your vacation reservations directly with us at North Beach Resort & Villas. It's a snap to do, and a sure way to book a room securely. You'll have flexible terms, too, which are crucial in today's travel climate.
When you book directly with North Beach Resort & Villas, you can cancel 30 days prior if needed for a full refund. Or, if you are between 1-30 days, you can push the dates of your vacation back at no additional charge if plans suddenly change (subject to rate changes and availability).
Come Stay at North Beach Resort & Villas
It's a beautiful place to stay, with comfortable rooms and beautiful views. With Caribbean-themed pool features, 21 Main Prime Steakhouse and Cinzia Spa on site, North Beach Resort and Villas has the first-class amenities you're looking for in your Myrtle Beach vacation. Check out all our accommodations and amenities or book your stay today