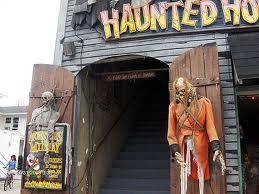 The fall is haunted house season, and the Grand Strand has you covered on all sorts of scary structures. From the staged haunted houses featuring actors and special effects to historic homes that are said to be inhabited by ghosts, the Myrtle Beach area offers all kinds of thrills and chills. Here are the top five places to put a shiver in your spine on the Grand Strand:
* Nightmare Haunted House: More than 3,000 square feet of scary awaits the brave at heart at the Nightmare Haunted House in downtown Myrtle Beach. Operating year round since 1989, this huge haunted house offers two shows: "Monsters of the Midway" – a spinoff of Myrtle Beach's downtown carnival atmosphere in which the freak show acts decide to take out their revenge on gawkers – and "The Paranormal Show" – where Dr. Nobody Jones takes guests on a 30-minute séance and show. The motto "No Wimps Allowed" is no joke at this spooky attraction. For more information, visit Nightmare Haunted House.
* Ripley's Haunted Adventure: The most famous name in wacky attractions also puts on one heck of a haunted house in the heart of downtown Myrtle Beach. Located on Ocean Boulevard, this spook house operates year round. Designed to look like an old mansion with scary figures posted outside to dare you to enter, the real thrills are inside the defunct Grimsby & Steaper Import and Export Company. Featuring a combination of live actors, animatronics and high-tech special effects, Ripley's takes terror to the next level with a spooky elevator ride to the top floor, and chills await your descent to the basement. Ripley's Haunted Adventure celebrates Fright Nights during the month of October, offering special discounts and Halloween treats. For more information, visit Ripley's Haunted Adventure.
* Terror Under the Bridge: Previously held in an 1890 warehouse in Conway, this haunted house is even bigger, better and closer to the beach this year. Relocating from the old Peanut Warehouse on the downtown waterfront, this troop kept the same name for its new location, which is near the 501 Bridge in Myrtle Beach. Using an old Waccamaw Pottery building, Terror Under the Bridge puts on a frightening display that's much different from the traditional, single-file hallways of most haunted houses. The open spaces leave visitors guessing what's in store around every corner. Terror Under the Bridge is open Oct. 24 through Nov. 1 from 7 to 11 p.m.
* The Gray Man: This legend isn't confined to one house, but rather an entire island. The tiny town of Pawleys Island is said to be inhabited by a grayish, foggy figure who appears on the eve of major hurricanes to warn islanders of the approaching storm, sort of a spiritual Jim Cantore. According to the legend, the young sailor returned home in a storm to see his true love and, in his haste, was bucked from his horse and died of his injuries. He began appearing to locals generations ago, warning residents to evacuate from 19th century hurricanes through the more recent Hurricanes Hazel and Hugo.
* The Hermitage: This isn't the kind of haunted house with actors and special effects, but rather a historic Murrells Inlet rice plantation that is believed to be occupied by the spirit of a young woman more than 150 years after her death. Alice Flagg, a Southern belle of high Southern society, fell in love with a common laborer but was forbidden by her wealthy family from marrying below her social status. As legend has it, she secretly wore an engagement ring on a ribbon around her neck, which was discovered by her family when she grew ill with either a fever or a broken heart. Her father angrily threw the ring into the surrounding swamps, and she died asking for it back. Today she is said to roam the halls and grounds searching for her lost treasure, and many visitors say they feel their jewelry being pulled from their fingers.
(Posted: 9/24/14)
(Photo Courtesy: charlieplace.com)